Research and Evaluation
If we are to reduce alcohol harm it is vital to know how much people in our region drink, why they drink above the low risk guidelines and whether people are aware about alcohol harms
Balance carries out regular research with the North East population which gives us a detailed picture of the North East's drinking behaviour and attitudes going back more than a decade.
What do we know?
Eight in 10 people in the North East would describe the UK's relationship with alcohol as 'unhealthy'.  And around 7/10 people think alcohol policy should be protected from the alcohol industry.
We know that nearly half of North East adults and 6/10 men are drinking above the low risk guidelines, putting health at risk. One in four NE drinkers binge drink on a weekly basis. The pandemic worsened rates of alcohol consumption among many people who were already drinking the most heavily…with home drinking fuelling this.
And we know that it is not young people who are most likely to drink above recommended limits but adults aged over 45. Even in retirement (65+) 1 in 3 people are drinking more.
We believe people have a right to know the full facts about alcohol to make informed decisions. It's a concern that only 1 in 3 people in the North East and 1 in 10 nationally are aware that alcohol is a direct cause of cancer. And that most people who drink above the limits consider themselves to be moderate drinkers.
Alcohol and cancer - are people even aware?
But we are seeing some encouraging signs.
We see in independent surveys of our campaigns that more awareness about alcohol is prompting more concern, more conversations about the role of alcohol in society, more support for policies and more actions taken to cut down.
We see more parents believing it is important to talk to their children about alcohol and that role modelling around alcohol is an important part of parenting.
We now also know that despite huge amounts of alcohol advertising, nearly half of drinkers are taking steps to try to cut down…however small these steps may be.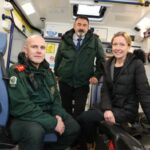 While North East drinkers may not recognise issues with their own drinking, people do recognise that society has a problem with 8/10 people linking alcohol to anti-social behaviour.
We have also carried out research with the region's emergency services such as North East Ambulance for whom 93% of staff say dealing with intoxicated patients wastes valuable capacity and places avoidable demand on time and resources. Read
Alcohol, consumption and public opinion
Balance has been tracking for over a decade alcohol consumption and public opinion in the North East. Our latest 2021 report has some worrying post-pandemic  findings, suggesting 47% of NE adults are drinking above CMO guidelines. But it also shows some drinkers are cutting down and strong recognition of the problems alcohol causes the North East.
Local Alcohol Profiles for England
Local Alcohol Profiles for England contain key local data for professionals on alcohol indicators including mortality, years of life lost and alcohol hospital admissions.