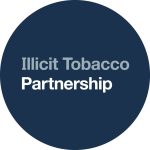 Illicit Tobacco Partnership
The Illicit Tobacco Partnership is led by Fresh, the comprehensive tobacco control programme based in the North East of England in collaboration with our partners at ASH, SPECTRUM and the Greater Manchester Making Smoking History programme.
The Partnership is part of broader strategies aimed at reducing smoking prevalence, to protect communities from tobacco-related harm,  and to stop more children and young people from starting to smoke in the first place.
The foundations of the Partnership began in 2006, with the recognition that the illicit tobacco trade was undermining the delivery of tobacco control efforts, particularly taxation and age of sale legislation.
In 2007, health and enforcement partners gathered in the North of England for a world-first summit on tackling the illicit tobacco trade which led to the launch of the North of England Tackling Illicit Tobacco for Better Health programme in 2009. The Illicit Tobacco Partnership was subsequently formed in 2016.
Our programmes recognise that all tobacco – legal and illegal – is harmful.  Tobacco, and the smoke it generates when burnt, contains thousands of chemicals, many of which are known to cause cancer, heart disease, chronic obstructive pulmonary disease and many other conditions.  Smoking is the largest cause of cancer, causes one in five adult deaths over the age of 35, and is now widely recognised as killing up to two in every three long term smokers in our communities.
Recognition for our work
The successes of the Illicit Tobacco Partnership and its previous formations have been endorsed by a number of national and international bodies, all of which recognise the value of collaborative working to tackle the illegal tobacco trade: