Supporting smokers to stop
Too often smoking is referred to as a "habit" or a "lifestyle choice" but smoking is an addiction. It's one most smokers start as children and tragically up to 2 out of 3 smokers who don't quit will die early.
We know half of North East smokers would like to quit and half are trying to cut down. And for those who do want to quit, health is the main reason.
Support to ADPH and NHS
Fresh supports the ADPH North East Tobacco Commissioners Forum which is an important group to support effective commissioning of stop smoking services working increasingly as a one system approach with the NENB ICB as part of the focus on a Smokefree NHS and Treating Tobacco Dependency.
Read about the work of the Tobacco programme | North East and North Cumbria NHS (northeastnorthcumbria.nhs.uk)
We provide ongoing support to the Association of Directors of Public Health North East and the North East and North Cumbria Integrated Care Board around the delivery of prevention within the NHS through the Treating Tobacco Dependency programme.
We know that some smokers will require more support to quit and it is important that this help is targeted to them. Two key priority groups are pregnant smokers and those with a mental health condition and we are members of the Smoking in Pregnancy Challenge Group – ASH and also the Mental Health and Smoking Partnership – ASH
Vaping
With increased focus on vaping we work with regional and local partners and local tobacco alliances to cascade and discuss new research and information relating to quitting and tobacco harm reduction to help achieve the Smokefree 2030 ambition.
We are providing strategic leadership and guidance around vaping recognising that it is less harmful than tobacco smoking and help smokers to quit but as it's not risk free we don't want non-smokers including children and young people to take up vaping.
There is also a NENC ICB Smokefree NHS/Treating Tobacco Dependency Taskforce position statement on nicotine vaping. North East North Cumbria ICB Smokefree NHS/Treating Tobacco Dependency Taskforce Position Statement on Nicotine Vaping (adobe.com)
To find out more about latest developments and data around vaping visit: Vaping and Tobacco Harm Reduction – ASH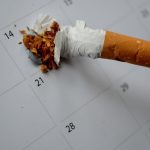 One of the key ways to reduce smoking prevalence is to increase the numbers of smokers who try to quit each year and encourage them to use effective ways to stop – from stop smoking services to quit aids and vaping.
Fresh works to empower smokers with the awareness and the motivation to make quit attempts and signpost local support through year-round campaigns and communications.