Media, communications and education
People have a right to know about the health risks of alcohol…
Alcohol is a group one carcinogen which causes at least seven types of cancer – including bowel and breast cancer. However only around one in ten people nationally and one in three people in the North East are aware that alcohol causes cancer.
Many people who drink above the low risk guidelines – putting themselves at higher risk – consider themselves to be "light" or "moderate" drinkers.
With alcohol there is a sizable and worrying information gap. We have no national campaigns, little information on alcohol products, and the information that is produced is largely left to the alcohol industry.
Similar to tobacco control, awareness and education are vital parts of public health. If we are to help people to drink less, they have the right to be informed.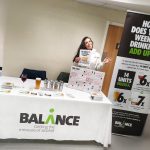 Balance has extensive experience in delivering messages to millions, having run a variety of award winning campaigns since our launch in 2009.
Evaluation of our campaigns has shown North East residents have higher awareness of the links between alcohol and cancer than nationally – but this is still far too low.
Despite half of North East adults drinking above the guidelines, almost half of the people who saw the recent Balance 'Alcohol causes cancer' campaign took steps to try to reduce their drinking.
Since 2009, we have delivered exceptional returns on investment in communications – keeping alcohol issues in the public eye and raising public awareness of alcohol harms in the region and nationally. Through our press, public relations work, social media and news function, we provide regular output to encourage people to cut down and support local and national media in highlighting alcohol issues.
We operate and promote the ReducemyRisk.tv website – an information platform highlighting the risks of alcohol, benefits of cutting down and links to tips, tools and local alcohol treatment services.
The site has a quiz to engage people about their own drinking and test knowledge about alcohol units. ReduceMyRisk.tv has now had over half a million visits, showing there is a real appetite for people to find tips and tools to cut down
Alcohol and cancer? Were you aware?